Coolex serves as an instrument for suction, isolation, retraction, dehumidification and also acts as a mouth opener.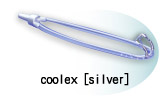 The factor exists with the possibility of the pollution of the side that rises in the temperature by moisture saliva, blood, the leach liquor, and in the expiration and the temperature, and is bonded in the mouth, and influencing at bonding strength and the time to harden it. Moreover, the existence of the tongue and the cheek mucous membrane is difficulty bonding in the mouth. Coolex does not only eliminate the use of rubber dam or other isolation equipment, but also creates an ideal environment for bonding, endodontic, crown&bridge, or other dental procedures.

Coolex can be attached in the mouth in less than ten seconds, and is connected with your vacuum tube. The wire spring keeps the patient's mouth open automatically, thus secures a wide and clear operation field. Coolex allows you to perform many dental procedures without saliva or moist air contamination. Coolex also retracts the surrounding soft tissue and prevents unnecessary soft-tissue dama ge. It acts as an effective suction instrument. You will realize that Coolex brings about isolation revolution, especially for adhesive dentistry.
01.Entire view of Coolex

Entire view of Coolex Entire view of Coolex: The wire spring is placed on the dentition and the tube is connected with the vacuum. The silicone tube retracts the soft tissue in a gentle and secured manner. An aluminum wire inside the tube allows to form the shape of the silicone tube.This figure describes how Coolex is placed and held in the mouth, when the mandibular left dentition is isolated.
02.The end of the silicone tube

The end of the silicone tube, which is placed around the dentition, has 22 or 26 small holes. These holes suction saliva, irrigation liquid and moist air efficiently, thus ensure a dry field in the mouth. This tube works also as a cheek, lip and tongue retractor.
03.WIRE SPRING

The coiled wire spring is attached to the end of the silicone tube through the holes mentioned above. This spring is designed to keep the patient's mouth open without discomfort. It also holds the silicone tube in position in the mouth.
04.SIZE

The cooley has three sizes; regular (cooley), small (cooley Jr.) and extra small (cooley mini). The vacuum connector portion of each size is color-coded as silver, gold or red, respectively, for easy recognition.The difference between cooley and cooley Jr. is simply the height of the coiled wire spring. They have the same silicone tube. Selection is made depending on the range of mouth opening of each patient. Usually the cooley Jr. is suitable for mixed-dentition children and some adult patients.